Fast facts
Hometown
South Bend, Indiana
Major
Musical theatre
School
Department of Theatre, Drama & Contemporary Dance, College of Arts & Sciences
Groups & clubs
IU Theatre, Embodied Conversations on Race, Gymnastics Club, University Players
Off-campus involvement
Cardinal State Company
Broderick's Second Year in Review
From the start, I was in love with not just my specific department, but with the school and students as a whole.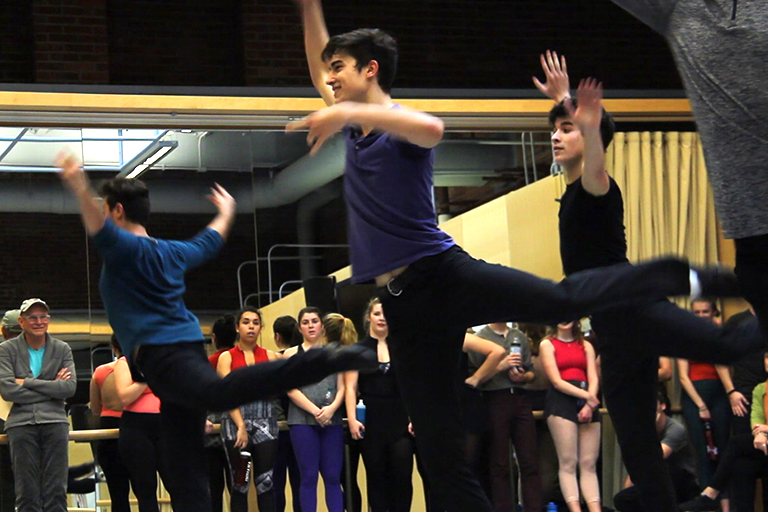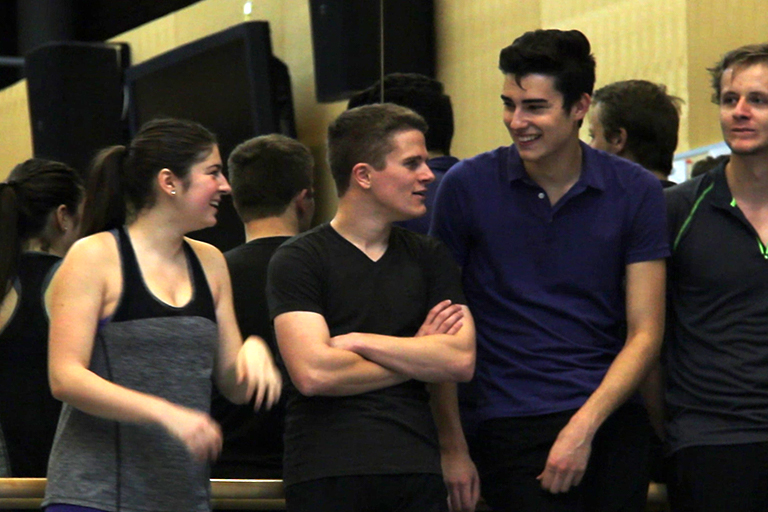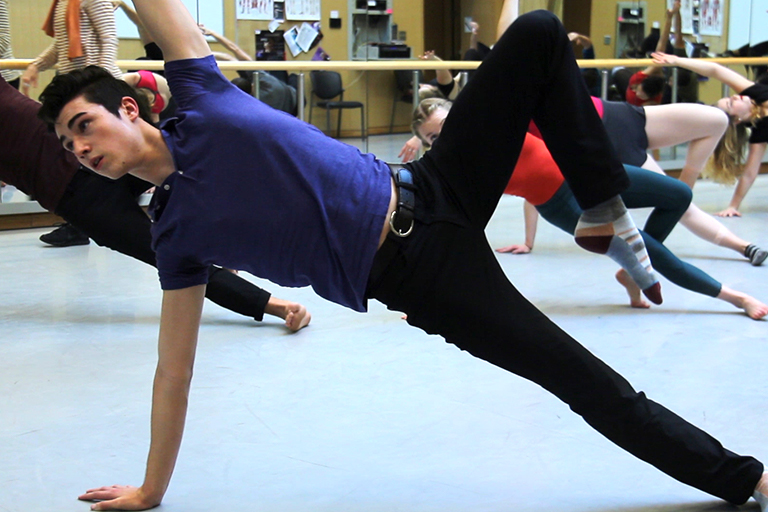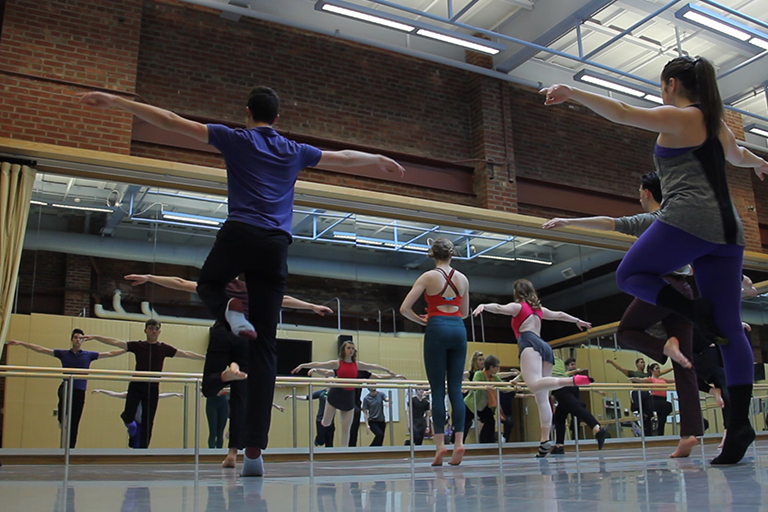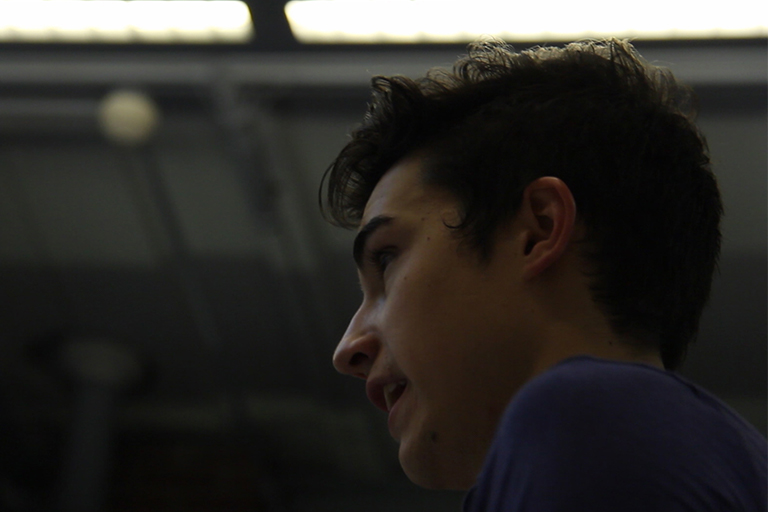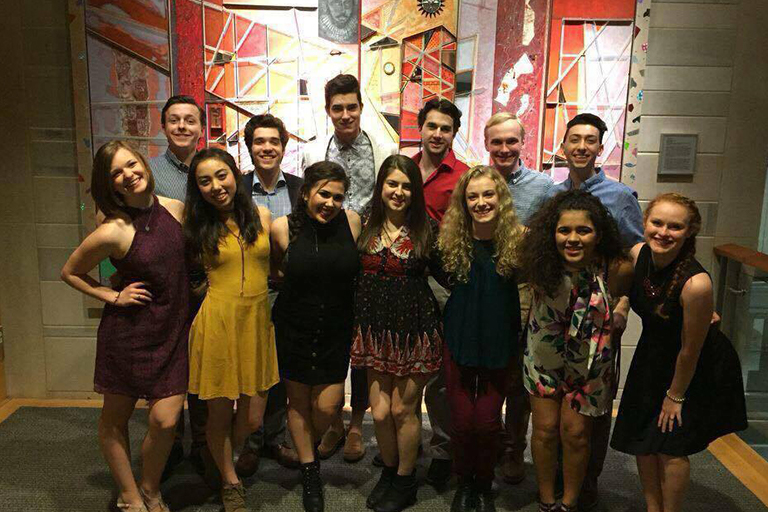 You know how your parents always tell you to cherish your time in school?
They say it goes by in the blink of an eye? It's not that I didn't believe them, I just couldn't have ever planned for it to go by so quickly. I feel as though I just got through my freshman year; one long, busy freshman year, and just like that I'm going into my senior year.
The past three years have been the most exciting, taxing, and fulfilling years of my life. When going back to school means going back home, you know you're at the right place. Truer words could not be said about my experience at Indiana University. What can I say? I'm a Hoosier through and through.
As seen on TV
When you're a graduating senior in high school, you imagine your entire college experience. Seeing as how I am the first in my family to go to college, most of my expectations came from the never-ending pool of college films and television shows we are spoon-fed by Hollywood. But college is not a cookie-cutter experience. Sure you can find some stereotypes at a Big Ten University like IU. However, you get out of college what you put into it. IU certainly isn't lacking in endless, diverse opportunities to immerse yourself in college life, depending on what that means to you.
I knew musical theatre was for me. This small, rigorous performing arts program inside a large university offered me the experiences and instruction that I craved, while still being a part of something outside the realm of the arts. I get to work with industry professionals every day, participate in a plethora of performance opportunities, and absorb art in more ways than I thought imaginable in the entire state of Indiana.
From one of the largest art museums in the Midwest to Broadway national tours, as well as some of the most talented music groups Bloomington nightlife has to offer, art is surely in no short supply.
That Hoosier pride
Being born and raised in Indiana, sports have also been a huge part of my childhood. Though I am by no means great at playing sports–and believe me, I tried–watching games and tailgating have been some of the most memorable events that brought my friends and family together. Like much of the art on campus, sports are a part of what makes Hoosier pride come so naturally. I'm going to miss heading out to the tailgating fields on those early Saturday mornings to root for my team.
Some believe Indiana to be a rather conservative state, and I can't necessarily argue with the whole of that statement. I will say there is no place in the entire state quite like Bloomington. For those who have ever felt a lack of representation, whether it be due to your race, sexual orientation, gender-identity, religion, or any other number of identities that diversifies us, Bloomington offers you the room to fully embrace your whole self, discover your real self, and grow from your past self in ways you just can't imagine until it happens.
The culture in Bloomington is everywhere. Some of the best foods from around the world is condensed onto a square block. Festivals and events pop up throughout the year. Some of my favorites; Bloomington Pride, Culture Fest, and Garlic Fest. There is always something new to do if you look for some adventure. The nature surrounding the town is a playground in itself. Places like Cascade Falls, Hickory Ridge Fire Tower, and Lake Monroe are just a few of my most memorable experiences. You can picnicking by a waterfall or rent a pontoon for a day with friends!
It sounds pretty basic, I get it, but I really have grown into a new version of myself since getting to college-a better version of myself.
Sure, people are always learning and growing in life. It doesn't stop once your formal education ends. Beyond belting and dancing, IU teaches me how capable I am as a human. You go from living at home with your family to being thrust into self-sufficiency and, yes, it can be a bit overwhelming at times. Are there things I would do differently? Absolutely. Would I trade the experiences I have had in the past three years? Not for the world. My experiences, my friends, my professors, and my jobs have all helped me to define exactly who it is I want to be and everything it takes to become that person.
Indiana to NYC
The last three years have been full of sleepless nights, exhausting schedules, and seemingly impossible amounts of responsibility. The last three years have also been full of creating life-long friendships. It's the most fun I've had in my entire life. And I've had the satisfaction of knowing that I am capable of doing whatever I put my mind and heart into.
As I type away at this final blog post, I'm forced with facing the end of an amazing chapter in my life, but relieved knowing I have one last year to do everything it is I have taken for granted.
I'm typing this from Logan, Utah, home of Utah Festival Opera & Musical Theatre, where I have spent the entirety of my final summer break performing with professional actors, dancers, and singers in putting up three musicals at once. I'm even lucky enough to be the youngest leading actor in the summer season, playing Riff in West Side Story, a small testament to IU's training.
Putting up West Side Story, Newsies, and Mary Poppins all at once would have seemed an impossible feat before college. Knowing now where I want to be and what I am capable of, I'm facing my life's next chapter head on. In fall of 2020, I'll be in New York City to making childhood dreams a reality, a challenge and adventure that wouldn't be possible had it not been for my family, friends, teachers, and above all, Indiana University.
Oh boy, this'll be a fun one. 
I was born in South Bend, Indiana but raised south of there in Greenwood. I'd spend the weekends camping with cousins—we would go to a small amusement park in Monticello, Indiana called Indiana Beach, which was always a lot of fun. But what really stuck out to me was seeing One Direction. I know what you're thinking, "Why One Direction?" Uh, I don't know, aren't they like the Beatles of this generation? That's what I've been told anyways. They were one of the first concerts I went to, and I just loved the energy you get from people performing.
The moment I decided that I was going to do musical theater full time was probably when I saw "Newsies" on Broadway during a choir trip to New York. The show was incredible: the dancing was great, it was a male-heavy cast, and everyone looked like they were having a ton of fun. As I, myself, performed with the choir at Avery-Fischer Hall and the Lincoln Center, I thought I wouldn't want to give up performing ever, so I stuck with it.
I know my mom has really pushed for me to always do what I wanted to do, not what other people expected me to do. I guess if I didn't have that support, I wouldn't be at IU. She just inspires me to follow my dreams, as corny as that is. So does my dad, as much as he wanted me to do the sports instead of theater.
But my whole family is supportive of my choice to come to IU. My grandma LOVES to come down and see shows. She talked about me being a star in "Urinetown" for weeks. So with all the support to follow my dream of performing, I can't imagine myself being anywhere else than IU.
Hello everyone! My name is Broderick Balsley. I am currently a freshman at Indiana University Bloomington, and it has been quite a wild ride for me at IU already.
Though I have only been at the school for one semester, my relationship with the university began back in February 2016, when I came to campus to audition for the musical theater program in the Department of Theatre, Drama, and Contemporary Dance. From the start, I was in love with not just my specific department, but with the school and students as a whole. Getting to meet with students at the university and becoming acquainted with potential peers was so easy, given the friendliness and openness of them all. From the start, it felt like home.
Enough of me praising IU (though it is well deserved).
Some other basic information about me: I grew up in South Bend, Indiana. Though compared to most cities it is quite small, South Bend offered a theater community that helped me grow and develop in something I really love doing. I often did church productions, but never really got involved in real community theater until the sixth grade. The South Bend Civic Theatre was a great outlet for me and it helped shape my life into what it is today.
I have two younger brothers back home, along with my loving, supportive parents. My transition to college was easier than I expected it to be, but no doubt because of the friends I have made and the professors who keep me as busy and devoted as possible. I am currently living in Forest Quad in the southeast section of campus. I lucked out and received a large single room which is accompanied by a great view of the entire campus.
Since coming to IU in the fall, I have been a part of a contemporary dance show, "Embodied Conversations on Race: Dancing Difficult Dialogues," have performed as a guard in the fall production of "Jesus Christ Superstar," and participated in the end-of-semester dance showcase for dance elective classes.
I have also, of course, taken on the exciting role as a member of the Class of 2020 group, which is nothing short of amazing. I can't wait to see what the group evolves to in the next four years. I am excited to work with the diverse and driven group of students as we take on this adventure. Here is to the next four years!