Fast Facts
Hometown
Indianapolis, Indiana
Major (minor)
Anthropology (Latin American & Caribbean Studies)
School
Department of Anthropology, College of Arts & Sciences
Groups, clubs & programs
Paso a Paso, Global Village Living Learning Community, Hudson & Holland Scholar Program, 21st Century Scholars Program
Doña's Second Year in Review
One of Doña's favorite classes is Haitian Creole. IU is the only university to offer a course in the French-based language.
Doña's IU Journey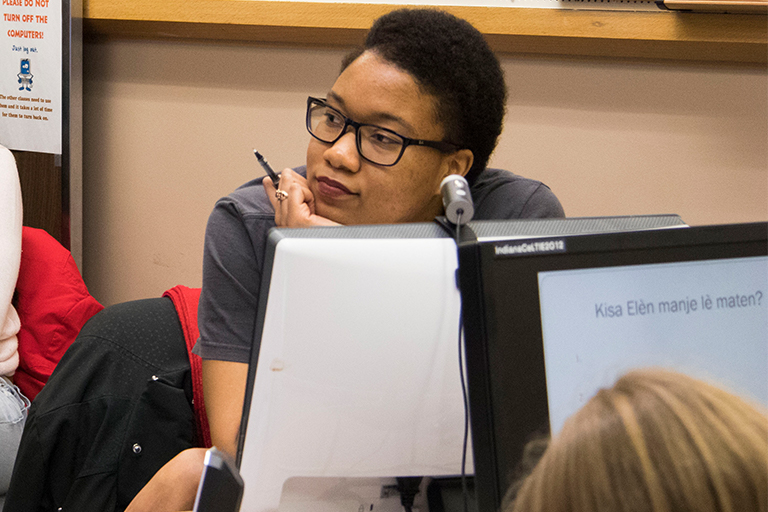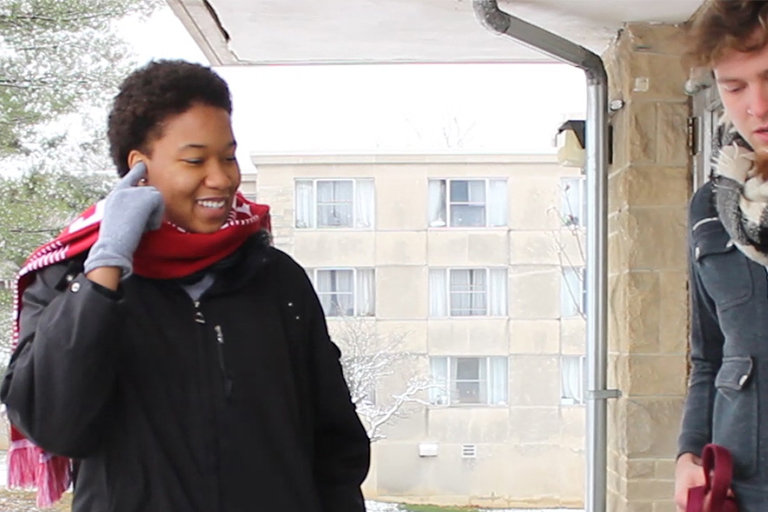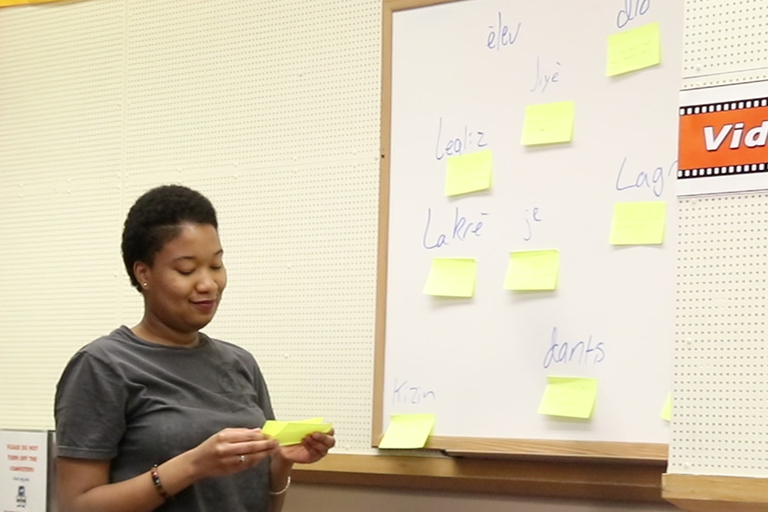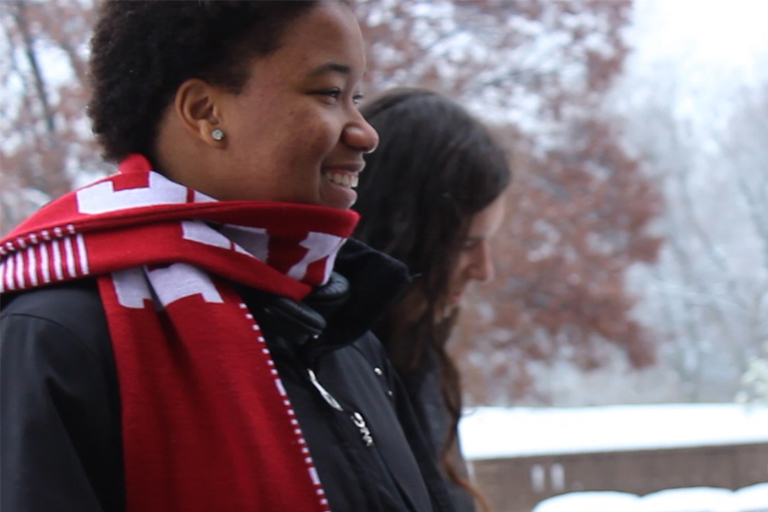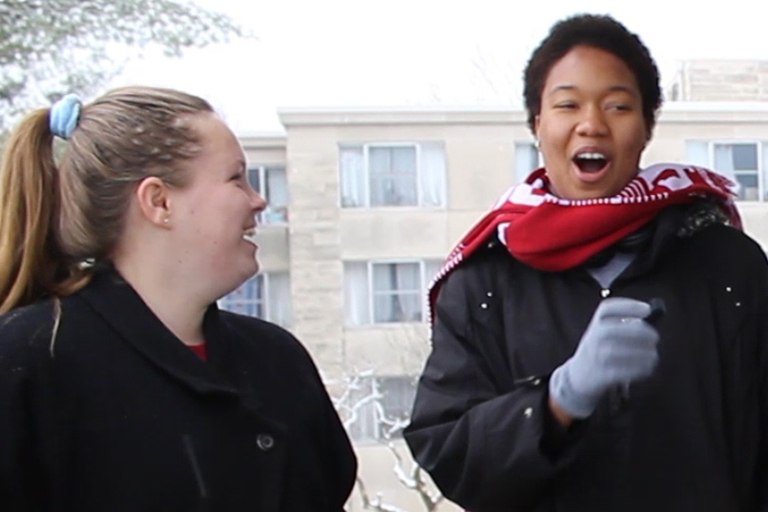 A lot of my decision came down to one thing – my mental health.
As I'm writing this, I can't help but wonder if I made the right decision of taking an "undetermined hiatus" from college. Nothing should ever be so stressful that you consider taking your own life.
But instead of focusing on the issues, I'd like to spend some time focusing on the lessons I learned.
I'd like to pass down some advice to incoming freshmen. There might be people reading this who are dealing with similar issues. The three main things I learned during my time in college:
1) College isn't for everyone –and that's okay.
Although I didn't graduate in four years as I had hoped, I still met amazing people that I wouldn't have gotten the chance to meet otherwise. Just because I didn't finish doesn't mean I wasn't exactly meant to be there when I was. Everything happens for a reason. Who's to say that I'd be better off finishing elsewhere or at another time?
2) Balance is crucial.
Often times, it may seem best to bury your head in the books, but I'm telling you, your social life and your health are just as important – if not even more important than getting a perfect score on that test. Of course, some people can tolerate it more than others. My suggestion would be to blend your social life with your study life when you can.
Form study groups that meet at certain times each week – even daily if you can. I found that I was actually more likely to open that book, take some notes, or start that assignment if I was around people close to me that were focused on doing the same things. Combining your social needs with your academic needs will help you feel fulfilled. Of course, it can get a bit distracting, but that comes with the territory. Make time to study, but also don't forget to have fun and take it easy.
3) Do not give up on yourself.
That could apply to more than just not quitting your major or leaving college. In fact, taking time away from college was an act of me choosing not to give up on myself.
It wasn't an easy decision. But the best decisions are never easy. And who knows, I may return very soon. At the moment, however, I'm feeling a lot happier than I've ever been and I would simply encourage people to be brave when making those kinds of hard decisions–because they will come. It's okay to "give up" if it means that you're not giving up on yourself. It's okay to say "No." if it means saying "Yes." to your well-being.
I just wanted to take a second to thank all of the kind-hearted souls that I've gotten the privilege to know and cross paths with during my time at IU. Thank you to Jessica Sykes, Derrick Beverly, Iris Hess, Harsharn Kaur, and Elizabeth Lewis for being more than just my friends, but my family away from home. I think my experience in college was that much better because you all loved and supported me. You all are the reason why I know my little pit-stop at IU was necessary.
A lot of people ask me, "Why IU Bloomington? Why not IUPUI?" It's a fair question since IUPUI is practically in my back yard. I'd love to say it was the size and beauty of the campus, but my decision came down to three things: financial aid, the diversity of courses, and the opportunity to truly be away from home.
To be honest, I barely registered anything about IU Bloomington on my first visit because it was so cold! But when I got here for Welcome Week, I was so struck by everything you see in the brochures. It was a huge, beautiful campus with an amazing atmosphere and so many opportunities to meet people and get involved. Things only got better when I moved in to the Global Village Living-Learning Community.
The Global Village feels a lot like an actual village. We have around 70 student residents who are all heavily interested in international issues and tend to speak more than one language. It's kind of perfect because I'm absolutely obsessed with learning languages—Spanish, in particular—and the cultures surrounding them.
One of my favorite classes so far has been Haitian Creole. My parents are from Haiti, and while I'm considered a "heritage speaker," I don't know the language very well. I was really surprised to learn not only that IU offers the language but that it's the only university where it's available.
When I'm not in class or participating in Global Village events, I'm studying. The Global Village, Neal-Marshall Black Culture Center, and La Casa lounges are the best places to crack open a book on campus. They're also great places to hang out in general. The Global Village, in particular, has a family vibe that helped me feel at home almost immediately. In fact, the sense of community might be one of the biggest reasons I haven't been too homesick.
If I have any takeaways from my first few months at IU it's that the college experience isn't as terrible or frightening as they lead you to believe in high school. There are so many resources that will not only help you succeed in class but also in finding community.
I'm so glad I said yes to IU.
I was a pretty sheltered kid in Indianapolis—not because my parents are crazy, but because we kind of lived in a neighborhood where crime was common and they wanted to keep us safe. We were latchkey kids, our parents were like "don't open the door for anybody if they're knocking, blah blah blah." I think eventually my dad started to notice that we were kind of being left out , so he had a little compromise where he said "When I come home by 7:30, you guys can go out and play with the other kids and I'll watch you." We'd be waiting all day dressed up, with our shoes, pants, and everything because we weren't allowed to go out looking stupid. Then he'd come home from a long day of work and sit and watch us even if he just wanted to sleep. Those memories of going out really stuck with me.
When I was like 10, I went out of state for the first time.
We went to Florida to see my aunt and her family. This was kind of the first real exposure we got to a Haitian community. Our family wanted to expose us to everything in our own culture. The churches, music, and the language. But we had the disadvantage of not growing up in a Haitian community. We just knew phrases and nouns, so we'd be so lost when people were talking to us. And they'd be shocked: "Why don't you speak Creole?" and chastised us and my mom. I felt really lost and out of place, so I knew I was not going to make that mistake from that point on. I tried to become fluent, and that's kind of why I was interested in taking Haitian Creole at IU.
To be blunt, I didn't want to go to college. I felt like I wasn't prepared, I was scared I might struggle, wondered if I could perform as well as my peers ... it was all unknown. But when I received a scholarship, I started thinking "well, it's college or bust." I think I have really learned to just take risks, because now I'm here, trying to graduate from IU. And college isn't easy, breezy, beautiful Covergirl all the time, but I need to branch out, I need to go out of my comfort zone like I did as a kid. How else would I see the world?