Fast Facts
Hometown
Perth, Western Australia
Major
Violin
School
Jacobs School of Music
Campus activities
Wells Scholars Program
Emily's Second Year in Review
The Wells Scholars Program has allowed Emily to pursue her love of literature through a seminar focusing on American and French literature.
Emily's IU Journey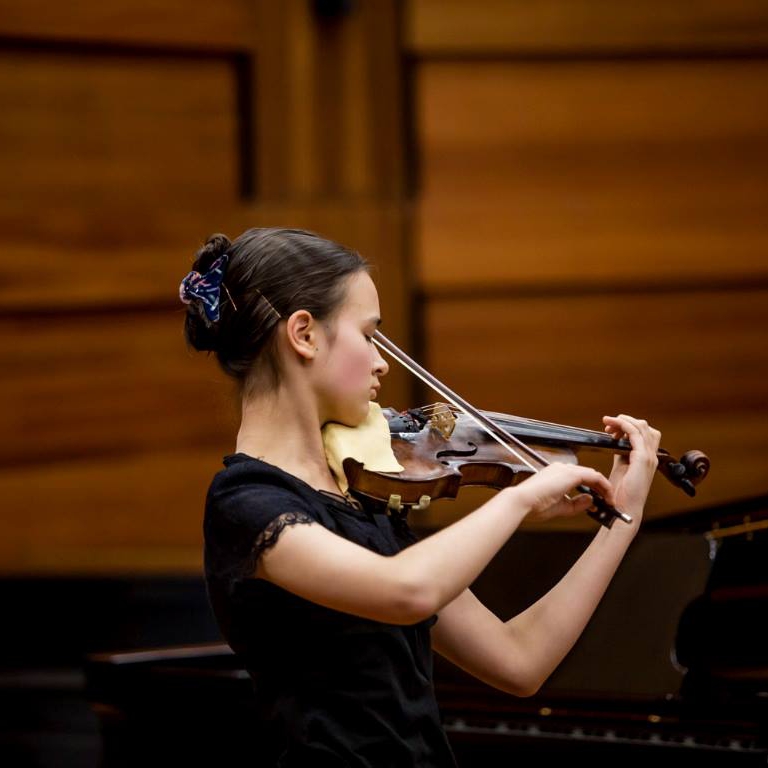 Summer has never been a break for me, and 2019 was certainly no exception.
As soon as I returned to Perth, preparations were in full swing for several concerts of mine: the first, a recital, and the second, a particularly special set of concerts as soloist with the Fremantle Chamber Orchestra.
Concert season
This orchestra have supported me for many years – since before I came to study at IU – and they have invited me back to play a concerto as a soloist with them every summer that I have returned. It is a wonderful opportunity to build up a long-term relationship with an orchestra and their directors, as well as being special for me to share my progress and development year after year with my community. It was touching to have so much feedback from members of the audience saying that they couldn't believe the transformation I had made since beginning studies at Jacobs.
Immediately following these concerts (very much immediately: going straight from the concert hall to the airport!) I flew off to Kronberg, Germany, for a very special series of violin masterclasses.
IU 2020 goes global
The Kronberg Academy master classes occur every two years and gather five of the world's finest violin teachers to give intensive master classes for a week. It was truly eye-opening for me, as well as being a very useful platform for making contacts. Following my degree at IU, I would love to continue my graduate studies in Europe. I loved many of the teachers there, but there was one in particular whose teaching style resonated with me. I was fortunate enough to be able to play for him, and I hope to study with him in Vienna in 2020! IU 2020 project goes global!
'I Still Call Australia Home'
Studying abroad has been one of the most important influences in my life, and it seems like I will continue to live and study overseas,  but Australia will always be foremost in my heart. There's a very cheesy song we used to sing in primary school called "I Still Call Australia Home." Now I think I really understand the meaning of this. I could not be more grateful to IU, the Wells Scholars Program, and to my teacher, Professor Fuks, for the opportunities they have given me. But now, coming to the end of my degree, I also appreciate just how lucky I was to have the upbringing, education, and community support that I had in Perth.
Coming to America
Studying in America was  always a childhood dream for me – one that seemed wonderful, crazy, and pretty improbable.
A sequence of extraordinary events and people allowed me to make this dream come true: my mentor, Karen Gomyo, introducing me to Professor Fuks; Professor Fuks taking me under his wing; Professor Christoph Irmscher at the Wells Scholars Program allowing me to have the financial support I needed to study in the United States; and most of all, my family, for backing me every step of the way to allow me to continue down the path that I had chosen as an 11-year-old: this crazy dream of being a violinist. I don't think I could have dreamt of just how much being at IU would give me.
And, most importantly, it's taught me that dreaming isn't just for children. We can chase our dreams, and make them happen, with hard work, a love of what we do, a little bit of luck, and a whole lot of support.
I started taking violin lessons at seven in my hometown of Perth, Australia. Honestly, I hated it until I was 11. But over time, I began to experience the performing arts as something I shared with other people. For me, it's a gift to try and make someone else feel the way I do when I perform. That is why I decided to devote my life to violin.
I started taking violin lessons at seven in my hometown of Perth, Australia. Honestly, I hated it until I was 11. But over time, I began to experience the performing arts as something I shared with other people. For me, it's a gift to try and make someone else feel the way I do when I perform. That is why I decided to devote my life to violin.
At a summer music festival in France in 2015, I first met and played in a master class with Jacobs School of Music with Professor Mauricio Fuks. After watching him teach for just 10 minutes, I felt so inspired.
Our school years are different in Australia because our summer is from December to February. After finishing high school in December 2014, I took a year off to travel and meet teachers. When Professor Fuks invited me that summer to practice with him for a couple of months in Bloomington the following year, I could easily say yes. I came in September 2015 and stayed until December 2015. During that time, I sat in on classes and did homework in classes I wasn't enrolled in. I was kind of able to settle in and feel that I already sort of had a music family here, even before my freshman year. The following March, I officially auditioned for Jacobs and was accepted on a Wells Scholarship.
After coming to Bloomington, it was a beautiful thing to discover that, in addition to having an incredible music instructor, this is a great place. The Jacobs School of Music has provided me with so many academic opportunities. I couldn't have imagined a university better suited for me. Somehow all of the boxes managed to get ticked—and double-ticked—in this small town in the heart of the Midwestern United States.
Outside of class, I often help my friends out by accompanying them in a recital. One time we stayed up late until 2 a.m. interpreting Brahms violin concertos, performed with three violins—which is absolutely absurd, but that is the kind of thing we do for fun. I always try to do better and better musically, one day at a time, and see where that takes me.
If there is one thing I am certain I will always be doing, it will be playing the violin.
Growing up, I thought Perth, Australia was a very ordinary place to be. But the older I get, and now the more I go away from it, the more I realize that it's probably the most beautiful place on Earth, actually.
Perth has a bit of a reputation in Australia for being the sort of boring city, I don't know why. It's far away from everywhere, it's like a five-hour flight to Sydney. But I think it's the perfect balance of being a big city of opportunities and the feeling of a small town home. Plus all of the crazy Australian wildlife, like five different kinds of parrots or kangaroos, are just there on the sidewalk which is really nice. I didn't realize that this was sort of a magical thing. And then when you go away from that, and you think, "Oh yeah, I was really lucky to grow up there."
There was one key moment for me when I was about nine years old, when I heard the Max Bruch's first violin concerto for the first time. Before then I was always reluctant to practice; I hated being dragged along to a concert at 8 p.m. at night. But then I heard this beautiful piece of music. I remember being transfixed and I remember thinking at the end, "I have to play this one day." And somehow, from that moment, I began to play more.
The thing with music, and I guess with practicing, is that the more you put into it, the more you get out of it—it's a bit of a snowball effect.
Last summer when I was at home in Perth, I was invited by one of our local orchestras to be the soloist playing this concerto. This is really where my whole love affair with music and the violin started. To be able to play this piece with an orchestra, at home, with an audience of people, who a lot of them I had known for a long time, it was really special and very moving and kind of like coming full circle. Being away at IU and coming back with what I've learned so far is something really special.